Polling Places Needed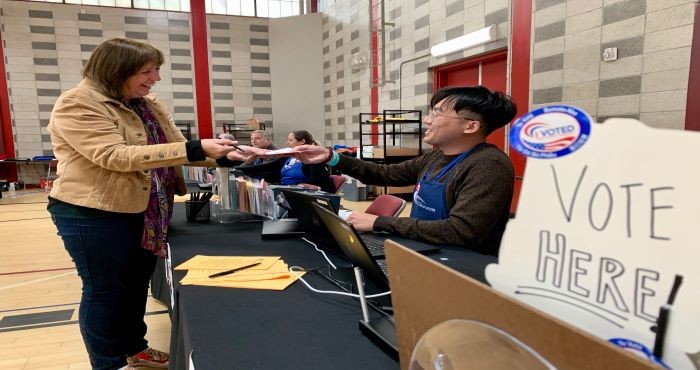 Do you have a facility that could serve as a polling place on Election Day?
Polling places have been as varied as bowling alleys, mortuaries, churches, classrooms and garages
You may donate your garage or facility at no cost to taxpayers, or you may be compensated $65 for the use of your site and another $35 if you provide

one 8-foot or two 5-foot tables
and five chairs

We like to use places that are accessible to all people, including those with specific needs. If you're not sure about polling place accessibility to your space, we will send someone out to evaluate it
Citizens like voting in their neighborhood. You are providing a welcome service to your neighbors by offering a convenient place to vote
We will provide all the staff, booths, ballots, voting equipment and other supplies needed to operate the poll.
You may also be interested in being a poll worker. There are stipends available to poll workers.
There are minimum requirements. We need:
A room that is at least 18-feet x18-feet in size (similar to a two-car garage)
Access to the polling place from 5:45 a.m. until 9:30 p.m. on Election Day
(Voting hours are from 7 a.m. to 8 p.m.)
Adequate interior lighting so voters can read their ballots
Exterior lighting so everyone can enter and leave the polling place safely
Access to an electrical outlet for a touchscreen voting machine
Restroom availability for poll workers only
Use of a telephone by poll workers for emergency calls. Poll workers will use their own mobile phones for routine matters
If your polling place is within a gated community, the gates must remain open during voting hours
It is best if poll workers can set-up the polling place the night before Election Day, but it is not a requirement
There are some restrictions:
A polling place cannot be at the home of a registered sex offender
We cannot use the home of a candidate for a polling place
The polling place may not be connected to any place that offers alcoholic drinks during the hours the polls are open
On Election Day, no one may do any campaigning within 100 feet of the poll
You may offer your home or facility as a polling place by filling out this application »
You may also be a poll worker »

$65

compensation for hosting
$35

additional if the host provides
tables and chairs for poll workers

We also welcome polling places which are donated free of charge (in-kind).
Please contact our office at 858-565-5800 for more information.