Accessible Voting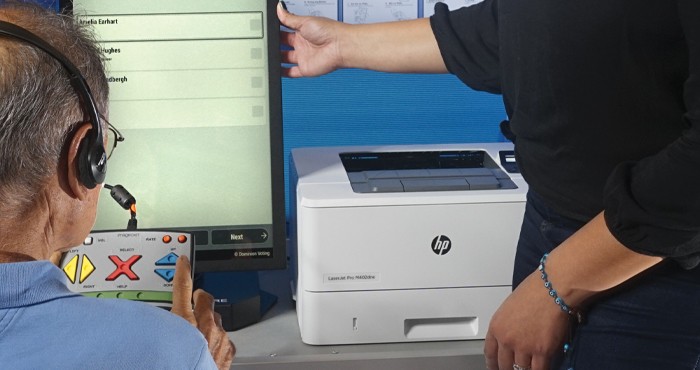 You have the right to vote privately and independently. Please call the San Diego County Registrar of Voters (858) 565-5800 or TDD number (800) 735-2929 if you have questions about accessible voting in San Diego County.
Vote by Mail
Voting by mail gives you the opportunity to vote conveniently and privately in your own home
It's SIMPLE. Your ballot arrives in your mailbox (or inbox – check out Remote Accessible Vote by Mail below)
It's SMART. Make voting decisions and complete your ballot comfortably at home
It's SECURE. Seal your ballot in your postage-paid envelope, then:
Sign it » Date it » and Return it Promptly » so it is received well before Election Day.
Remote Accessible Vote by Mail (RAVBM)
Any voter may request and receive access to a Remote Accessible Vote by Mail System
This system is commonly used by voters with a disability or voters deployed overseas serving in the military
This system allows a voter to download a ballot on a personal computer and mark it privately and independently using their own assistive technology
After marking their ballot, the voter will have an option to review their choices
After reviewing, the voter will then print and return their ballot using the printable envelope template included in their RAVBM instructions
Just like with any mail ballot, RAVBM ballots must be sealed inside an envelope, signed, and returned by mail or at any Voter Center or Mail Ballot Drop Box
Remote Accessible Vote by Mail  Disability Rights California PSA

Interested in using the Remote Accessible Vote by Mail System? Call (858) 565-5800 and ask for the Vote-by-Mail section or Email rovmail@sdcounty.ca.gov
You may also Sign up here »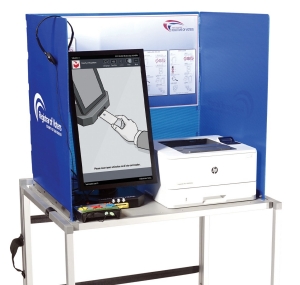 Accessible Voting Machines
Every poll location will have an accessible ballot marking device that is compliant with the Americans with Disabilities Act (ADA)
The Registrar of Voters office will have accessible ballot marking devices for use starting 29 days before Election Day
San Diego County's ballot marking device lets voters go through their ballot independently with features such as:
Touchscreen tablet, with options to change text size and contrast
Handheld controller with braille
Headphones and audio instructions in English, Spanish, Filipino, Vietnamese and Chinese
Privacy mask, for voters with low vision to ensure their votes are kept private as they use the audio instructions
The ability to use their own paddle, or sip and puff assistive device
This voting machine does not tabulate or count any votes. After the voter confirms their selections, the voter must print their ballot and place it in the ballot box to be counted at the Registrar's office.
Let the poll workers know if you have questions or need assistance with the ballot marking device
Learn how to mark your ballot using the ballot marking device »
Assistance at the Poll
One or two people such as a family member, friend or poll worker can assist you with your ballot
However, you cannot be assisted by your boss or union representative
Assistance may include reading the ballot aloud or marking your ballot as you have directed
Whoever helps you cannot tell you how to mark your ballot or tell others how you voted
Poll workers also have signature guide cards available to help you sign the voter roster if you have a visual impairment
Poll workers have a magnifying sheet that can be used to magnify the text on the roster, ballot or other voting materials
Accessible Polling Locations
San Diego County provides voting locations accessible for all people, regardless of ability
See if your poll is wheelchair accessible by looking at the back of your Sample Ballot Pamphlet
There will be a YES or NO printed below the blue accessibility symbol
If it says NO, you may call (858) 565-5800 to learn about voting methods that will work best for you
You may also request to have a ballot brought to an accessible location near your poll
Curbside Voting
At any polling location that is determined inaccessible or that you are unable to enter, you may vote curbside
Poll workers can bring a ballot to you
You may sit in your car and vote, or you may vote at the door of the building
Call (858) 565-5800 before heading to your poll to make these arrangements
Want to get more involved?
You may want to be part of Voter Accessibility Advisory Committee (VAAC) that advises the Registrar of Voters on accessibility and outreach.
Voter Accessibility Advisory Committee (VAAC) »
How was your Voting Experience?
The Registrar of Voters is committed to making your voting experience as convenient and satisfying as possible. 
We ask voters with specific needs to give us feedback on their experience at the polls. Please download and return our survey about your experience at the poll
More
Need translations? Click here »
We have a TDD (Telecommunications Device for the Deaf) line at (800) 735-2929
People in conservatorships have a right to vote if they can express a desire to do so. Anyone previously disqualified can ask for a reinstatement by writing a letter to the court. For more information see http://spectruminstitute.org/