Become a Mail Ballot Voter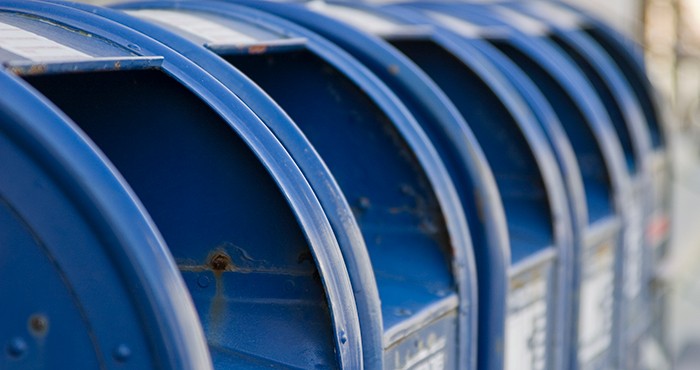 Permanent Mail Ballot
Any voter may receive a mail ballot for any election. To become a permanent mail ballot voter, sign up here: 
Permanent Mail Ballot Application » 
Your voting materials will be automatically mailed to you before each election.
If you decide to return to the polls to vote, you may change your mail ballot status with this form »
Have questions? Call (858) 565-5800 or email VoteByMail@sdcounty.ca.gov
Temporary Mail Ballot
Are you unable to make it to the polls on Election Day, but usually like to vote in person at the poll?
You can become a one-time mail ballot voter 60 to 7 days before the next Election Day.
We encourage you to apply at least 30 days before the next election to make sure you have plenty of time to receive, make your selections and return your mail ballot.
If you can't download the application, you may:
Email, fax or mail a letter to the Registrar of Voters. The request must include

Your printed name

Your home address

Name and date of the election

The address where your ballot is to be mailed, and

Your signature

Applications and letters can be:

Mailed to the Registrar of Voters at P.O. Box 85520, San Diego, CA 92186-5520

Emailed to VoteByMail@sdcounty.ca.gov or

Faxed to (858)505-7294

You may also call (858)565-5800 to request a mail ballot

Request can be only for the current election, and

The registered voter must make the call personally

  
IMPORTANT STEPS WHEN VOTING YOUR MAIL BALLOT
You will receive your mail ballot between 29 and 7 days before Election Day
Follow instructions for marking (voting) your mail ballot
Place marked (voted) ballot in your postage-paid return envelope and seal it
SIGN and DATE outside of envelope 
If you mailed your ballot and forgot to sign the outside of the envelope, please use the Mail Ballot Signature Form to send your signature to us
You must SIGN AND DATE the envelope or this form, so your ballot can be counted!

Returning Your Mail Ballot
Mail your ballot promptly to the Registrar of Voters address listed above or you may drop it off:
At one of the designated mail ballot drop-off locations throughout the county.

At the Registrar of Voters office anytime Monday - Friday, 8 a.m. to 5 p.m.
On Election Day, at the Registrar of Voters office, or any poll or mail ballot drop off location, between 7 a.m. and 8 p.m.
Or, if you are away from San Diego County you may return your mail ballot at any poll, drop off location or voting center throughout the State of California

Please note the elections officials in the other county have up to eight days to forward your ballot to us

If you mail your ballot it must be postmarked on or before Election Day and we must receive it no later than the Friday after Election Day
If you need language assistance in Chinese, Filipino, Spanish or Vietnamese, please contact us at 858-565-5800.
Did you make a mistake on your ballot?
If you need a second mail ballot because you damaged, lost or made a mistake on your first mail ballot, call (858) 565-5800.
Has the Registrar of Voters received your ballot?
You can confirm that your mail ballot was received by the Registrar of Voters.